Welcome to Nippers 2021/2022-commencing Sunday 7th November 
– Registrations are open online, all nippers (and a parent or guardian) will need to be registered before attending training and Nippers on Sundays
– Board training will start on Tuesday 19th October.
– Nippers proficiency floats and swim will be done on the 31st October 9am
– Nippers will start on the 7th November, U6s and U7s will start at 8am. All other ages will start at 9am.
– Every Age manager and coach will need to be double vaxxed.
– Any Parent will need to be double vaxxed when attending training or Sunday Nippers, no exceptions
JAC/ Age manager meeting at Surf Club 6pm Tuesday 12th October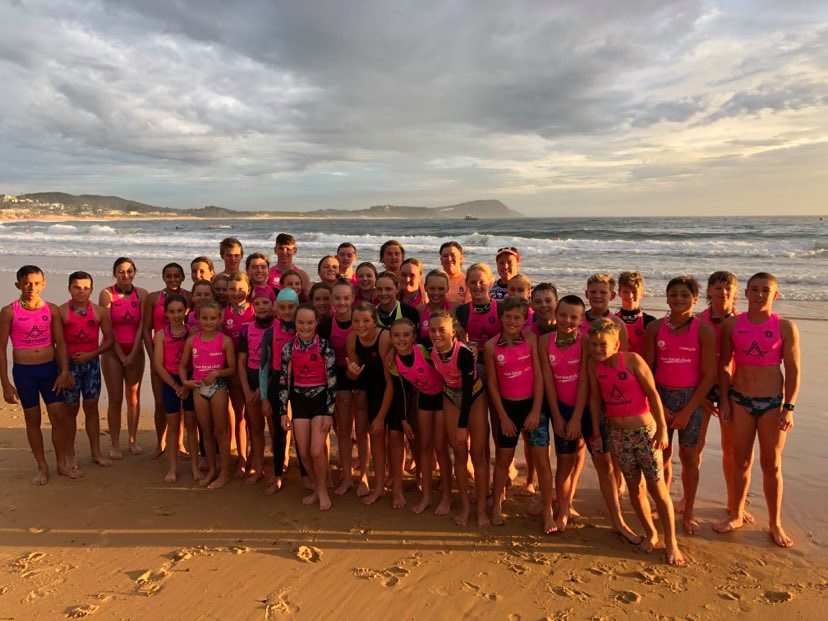 ---
Nippers at Terrigal is all about providing children with confidence, skills and understanding of the beach and surf environment. We are highly focused on providing an environment that is fun, family-friendly and focussed on developing each of our nippers throughout the season. Our aim is to give our nippers the skills, training and environment to become excellent lifesavers of the future.
Nippers can start once they turn 5 years old. The first two years of Nippers are spent in the Under 7's, the focus here is on fun and games on the beach which teach children basic skills and awareness of where to swim and what help is available from lifesavers.
The under 8's to under 14's partcipate in a structured program that includes skill development activities in both the beach and water environment and an integrated education program that develops basic resuscitation, first aid, rescue skills and understanding of the beach and surf.
Nippers in these age groups can compete in local carnivals several times during the season and we encourage children to do so (to test their skills in a new beach environment and enjoy representing their team) but it is not compulsory.
Terrigal also prides itself on our free and extensive club coaching program, with board, surf and beach training available on weekday afternoons, for beginners 9's through to the senior club. Our qualified and experienced coaches will develop your child's skills in these areas.
Nippers run each Sunday for about 2 hours depending on weather, conditions, program, helpers etc. Nipper events include a wade, board paddling, weimming, beach sprinting and beach flags as well as lots of fun activities and games designed to teach and improve all surf skills. Our Nippers participate in a progressive SLSA Surf Education program providing them with the skills and knowledge of beach safety and basic first aid.
It should be understood that Nippers is a voluntary organisation and is heavily dependant on parent helpers to run successfully. Each Nipper group is managed by an Age Manager (usually a parent who is given training and support) and is assisted by parent helpers and water safety (also parents and others who have completed their Bronze Medallion). We also expect parents to assist with beach setup and packup and the fundraising BBQ when rostered.
One of the highlights of the Terrigal Nipper Calendar is the annual Rescue Day, designed to give all 8-14 year nippers an understanding of rescue techniques and to actually be "rescued" by IRB/Jetski and to show off their resuscitation skills for their parents. It's all part of the preparation of Terrigal Nippers to be the lifesavers of the future.
Age of Children
Children are registered in the age group according to the age of the child on the 1st October ie if your child is 10 on the 1st October the child is in the Under 11's.
Children 5 to 13 years old are allowed to be registered as a Nipper. Under 6's and 7's children attend on an educational basis and are given a non-competitive (game based) introduction to beach and Nipper activities.
Children in the Under 8 age group are given beach activities and wade races, on special occasions may be allowed into the water to swim.
Children in the Under 9's to Under 14's compete in beach and water events and are taught water safety and surf life saving skills.
Age Group of Managers  
Children are under supervision of an age manager, a willing parent. Parents must ensure that their children sign on with their age manager, and sign off before leaving their supervision. Children that do not sign on and off will not be considered as attended for the day.