This page is for those who are not members of Terrigal SLSC that are seeking to join the club. For existing members seeking instructions to renew their current membership, see the membership renewal page here.
Register with us online by visiting sls.com.au/join
Registration days for Terrigal Surf Life Saving Club occur during September each year, although you can join at any time of year.
To join online, head to: https://sls.com.au/join/
For instructions to join us online, please click here.
Having trouble registering online? Email us with the subject "Membership Enquiry" and give us your contact details and we'll get in touch with you.
In-person registration dates for new members (Subject to change – Last updated 03/09/2020)
We now have 2 registration times:
Friday 18th September from 5-7pm
Sunday 27th September 9-11am
These times are for new members seeking to join Terrigal Surf Life Saving Club.  Copies of Birth Certificate/drivers licence/passport required for new members.  Please email to registrar@terrigalsurfclub.com.au
2020/21 Patrol season Membership Prices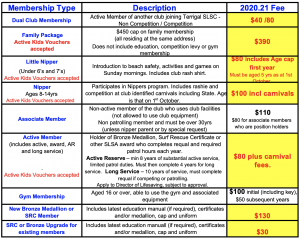 Your membership fee to our surf lifesaving club is an investment in your own safety as well as the safety of everyone around you. It is an investment in the beach lifestyle and something to be proud of.