Terrigal SLSC 2021/22 Membership renewal now open
Terrigal SLSC Club Registrations are now OPEN online.
To help keep us all safe, all members are to renew online through the SLS portal. There are currently no in-person renewal or registration availabilities.
TSLSC Member Handbook Season 2021_22
Membership Renewal (Individual)
Log in to your Surf Life Saving Australia (SLSA) member account via members.sls.com.au.
If you have forgotten your username or password, follow the instructions provided on the SLSA Members Area login page to receive/reset your account details.
If you do not have a SLSA member account, select the link provided on the SLSA Members Area login page to create an account.
Once logged in to your member account, select the "Memberships" tab and then "Renewals, Payments & Transfers" to renew your membership.
Select "Renew" to review and update your personal details and complete the member declaration before submitting your application for renewal.
If you are changing your membership category (e.g. from Associate to Award Member) then select the "Change Category" option to submit your request to the Club.
Once you select submit on your member renewal application , you will be taken to the payment page, select "Make a Payment" and then "Pay Online" to finalise your membership renewal. Failure to make a payment with your membership renewal application will result in your membership renewal request being denied. Although we accept direct debit, choosing this option will prolong your membership renewal, we ask that all members select the "Pay Online" method.
Ensure "Membership fee" is selected as the transaction type and in the payment details field please state your name and membership category (e.g. Firstname Lastname – Active Member). These fields should automatically populate.
Prices for membership categories are visible in the table below.
2021/22 Season Membership Fees
Please see the table below for applicable membership fees.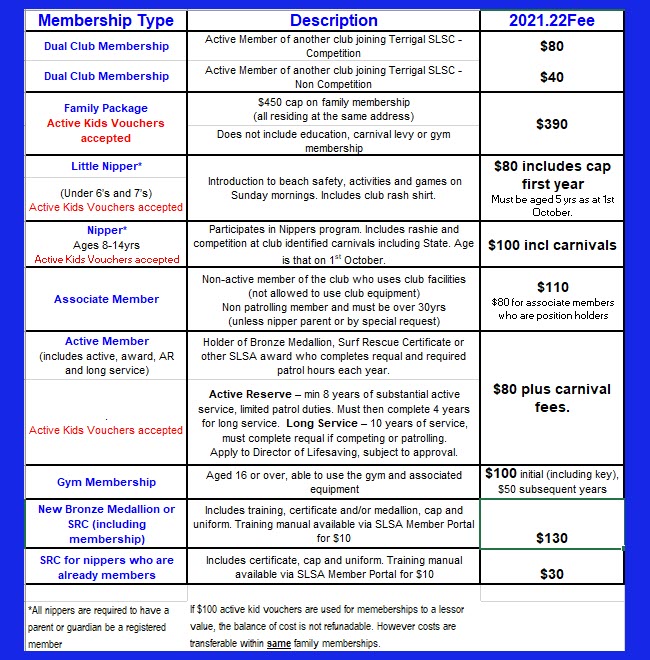 Active kids vouchers can be used for membership fees. If $100 active kid vouchers are used for memberships to a lessor value, the balance of cost is not refundable. However costs are transferable within same family memberships. Active Kids Vouchers to be emailed to finance@terrigalsurfclub.com.au
In person membership renewal times at Terrigal SLSC.
To help keep safe we urge existing members to renew online through the SLS portal. In order to meet social distancing requirements, there will not be any physical membership renewals or joining for the 2021/22 season.
All existing members are required to renew online at this stage. Please watch this space, in the case anything changes, it will be updated here.