Member Protection Information Officers
We are very lucky at Terrigal Surf Life Saving Club to have several formally trained Member Protection Information Officers who are available to assist Terrigal SLSC club members with any concerns or grievances.
Select a MPIO below to access their contact details: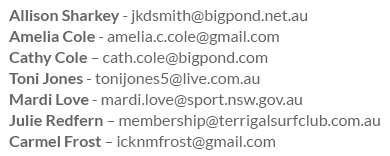 If anyone has any issues around the club, our MPIO's are available to listen, support and provide information about options available.
Terrigal Surf Life Saving Club is committed to providing a safe and fair environment for all club members to enjoy.
Member Safety & Protection Brochure
Click below to access a brochure with information on member safety and protection:
Volunteer as an MPIO
Terrigal SLSC is also seeking any club members who may like to undertake the training for this role.
There is a commitment to a days training and some online course work beforehand but it is very gratifying to be able to be available to assist both adult and young club members to feel safe and valued in TerrigalSurf Club.
If you are interested there is a link to the Play by the Rules website that gives information on the role and training involved.
https://www.playbytherules.net.au/online-courses/mpio-online-course
If you could see yourself developing your skills in this way, please contact the Director of Member Services – membership@terrigalsurfclub.com.au